Nonmonogamy and Death: A More Than Two Essentials Guide
Kayden Abley
Publication Date: March 29, 2024
Formats: Trade paperback, Kindle, ePub, PDF, mp3
ISBN: 978-1-990869-48-8 (paperback); 978-1-990869-49-5 (ePub, Kindle, PDF); 978-1-990869-50-1 (audiobook)
Price: US $9.95 / CAD $13.95 (paperback); US $7.99 / CAD $9.99 (e-book); US $6.95 / CAD $8.95 (audiobook)
Review It
Goodreads
Buy It from Independent Booksellers
Buy Local in CanadaUS DistributorBookshopMassy
Buy It from Big Corporations (but support us through our affiliate links!)
Amazon CAAmazon USIndigo
​​Rarely does the question of death come up in discussions of nonmonogamy. But whether it's sudden or expected, nonmonogamous people must face death like anyone else—as well as its consequences on those left behind after a loved one is gone.
As nonmonogamous people, how can we plan ahead for our own and our loved ones' deaths? How can we best navigate a funeral industry that may not understand our relationships, a legal system that's not set up to recognize our commitments, and a social world that can be unfriendly to grieving partners outside the monogamous model? How do we take care of ourselves and each other in times of grief and loss?
In Nonmonogamy and Death, Kayden Abley leads us through these difficult and tender questions with compassion and care, providing guidance to help you find your own answers.
More Than Two Essentials is a series of books by Canadian authors on focused topics in nonmonogamy. It is curated by Eve Rickert, author of the books More Than Two: A Practical Guide to Ethical Polyamory and the forthcoming Nonmonogamy and Jealousy. Learn more and find all forthcoming titles at morethantwo.ca.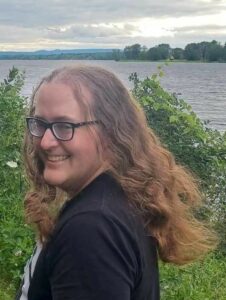 Kayden Abley (they/them and he/him) is an Ottawa-based queer, nonbinary and transgender healthcare admin worker and freelance author/publisher who has been published in the anthologies Amanda Goes To Italy (Girls Gone By Press) and Under The Poet Tree (Pedlar Press) and Mosaic literary magazine. They hold a diploma in Fine Arts from Dawson College, a BA (Hons) in Celtic Studies from the University of Toronto and a Master's degree in Scottish Studies from the University of Edinburgh. They also completed the academic portion of Humber College's Funeral Services Education program, where they studied grief counselling, funeral law and funeral planning among other topics.