"How do you deal with jealousy?" It's the first question many people ask when they hear about polyamory. Tools for dealing with jealous feelings are among the most basic resources in a well-equipped polyamory toolkit.
Eve Rickert and Franklin Veaux, authors of the popular polyamory book More Than Two: A Practical Guide to Ethical Polyamory, present Polyamory and Jealousy, part of the More Than Two Essentials series. The essentials take sections from More Than Two, expand on them, and present them in a practical, easy-to-use format that can be read in a single sitting.
In this booklet, you will find pragmatic ways to handle feelings of jealousy when they arise. You'll learn tools for identifying jealousy, strategies for decoding what it means, and hands-on advice for dealing with it before it undermines your relationship.
If jealousy is a problem for you or someone you love, this companion to More Than Two offers a path through the wilderness.
Franklin Veaux
As a child, Franklin Veaux heard a fairy tale about a princess forced to choose between two handsome princes, and thought, "Everyone knows princesses live in castles. And castles are big enough for both princes. So why does she have to choose?" He has been writing about polyamory since 1998 at morethantwo.com, one of the top-ranked sites about polyamory on the Web. He currently has five long-term partners and lives in Portland, Oregon.
Eve Rickert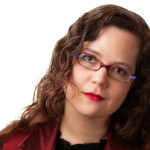 Eve Rickert is a professional writer, editor and mastermind. Her approach to poly has evolved over many years: from early experiences in high school, to first hearing the word polyamory in 1998, to her first swingers party in 2006, to her current three long-term relationships. She's learned a lot of hard lessons. She co-wrote More Than Two to share those experiences with anyone who is struggling to maintain ethical multiple relationships with integrity, compassion and courage.