A Polyamory Devotional: 365 Daily Reflections for the Consensually Nonmonogamous
Evita Sawyers, with a foreword by Chaneé Jackson Kendall and illustrations by Tikva Wolf
Publication Date: October 20, 2023
Formats: Trade paperback, Kindle, ePub and PDF
ISBN: 978-1-990869-23-5 (paperback); 978-1-990869-24-2 (e-book)
Price: US $29.95 / CAD $34.95 (paperback); US $11.99 / CAD $15.99 (e-book)
Review It
Goodreads
Buy It from Independent Booksellers
Buy Local in CanadaUS DistributorBookshopMassyPowell's
Buy It from Big Corporations (but support us through our affiliate links!)
Polyamory can be fun, sweet and  liberating. But ethical nonmonogamy can also take work.
Relationship coach Evita "Lavitaloca" Sawyers streamlines the vast abstractions of "working on yourself" into a guided tour of rigorous self-reflection. Building upon her wealth of experience in fostering the journey from monogamy to nonmonogamy, Sawyers invites you to ask yourself the big questions. Can compersion and jealousy coexist? How do we hold space for hurt we didn't cause? What if I don't like my metammour? 
Through 365 daily prompts, you are encouraged to develop the tools of emotional diligence that will serve you for a lifetime. For those eager to love authentically but overwhelmed by the emotional process of polyamory, this is your reminder that you don't have to do it alone.
​
"An honest, insightful book that addresses the joys, challenges, and work that goes into navigating nonmonogamous relationships."

—Foreword Reviews
"'Vita doesn't pull any punches with her raw and deeply personal perspective. A year of her daily takes is definitely a learning experience that all of us can get something from."

—Kevin A. Patterson, M.Ed., author of Love's Not Color Blind
"Evita answers the question my nonmonogamous clients most often ask at the start of therapy: where should we begin? Begin here, with this devotional. Evita offers insightful, digestible, actionable prompts for engaging with polyamory, one day at a time."

—Casey Tanner, queer sex therapist and creator of The Expansive Group
"Ethical nonmonogamy takes doctorate-level relationship skills, and A Polyamory Devotional is an essential guide through this process. Through her challenges and missteps, Evita compassionately teaches us how to deal with hard feelings, navigate sovereignty, and open our hearts to love more than one person. These daily reflections provide not only the tools but the hope that we can all gain growth, unlearn harmful relationship beliefs and develop deeper self-awareness  through the consensual nonmonogamy journey. The wisdom in this book deserves a Ph.D."

—Evalene (Evelin) Molina Dacker, MD, family physician and creator of the STARS Talk framework for sexual communication
"Empathetic, witty and engaging, A Polyamory Devotional is accessible to people new to polyamory, as well as those who are long-time nonmonogamists. Rather than telling people how they should be, it provides insights into Sawyers's personal journey, tidbits of wisdom and questions to spur readers' personal contemplations."

—Dr. Elisabeth "Eli" Sheff, author of The Polyamorists Next Door and Children in Polyamorous Families
"Reading through each page feels like a baptism to the parts of my soul that fear the dismantling of everything that nonmonogamy forces you to confront within yourself. This book is a true blessing, allowing the reader to have the guidance of Evita as a shepherd as they climb the proverbial mountain of polyamory."

—Jessica Daylover, writer of the Remodeled Love blog and co-author of Polyamory and Parenthood
"A Polyamory Devotional is as refreshingly authentic and thoughtful as the woman who wrote it. Reading through each day's prompts felt like listening to a good friend tell you that they've been through the same struggles you are facing, while gently nudging you in the direction of self-reflection, introspection and personal betterment. I found myself bookmarking specific prompts that reminded me of the things that needed work in my own relationships so I could return to them whenever I wanted a comforting reminder."

—Emily Sotelo Matlack, co-host of the Multiamory podcast and co-author of Multiamory: Essential Tools for Modern Relationships
"Whether you're just beginning your polyamory journey or you've been living a polyamorous life for decades, these daily reads will help you approach your relationships in a mindful and constructive way. Evita has this amazing ability to take complex, overwhelming concepts and bring them down to earth. Her reflections are nice and bite-sized while still being very rich. Polyamory is a constant process, and this book is the perfect format to help anyone along the journey."

—Chad "polyamfam" Spangler, polyamorous entertainer and educator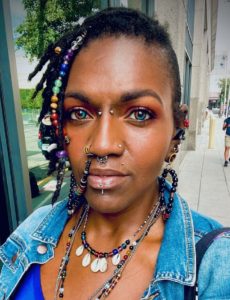 Evita "Lavitaloca" Sawyers is a Black, queer, ethical nonmonogamy coach, speaker, educator and advocate. She is the creator of the Instagram series "Today's Polyamory Reminder," which has inspired over 50,000 followers. Evita is also the subject of the groundbreaking polyamorous documentary Poly-Love. In her coaching and education, she specializes in navigating the transition from monogamy to nonmonogamy, coping with jealousy and articulating difficult emotions in healthy ways.