A Whore's Manifesto: An Anthology of Writing and Artwork by Sex Workers
Edited by Kay Kassirer, with a foreword by Clementine Von Radics
Publication Date: October 18, 2019
Formats: Trade paperback, Kindle, ePub and PDF
ISBN: 978-1-944934-89-7 (paperback); 978-1-944934-90-3 (ePub); 978-1-944934-91-0 (Kindle); 978-1-944934-92-7 (PDF)
Price: US $12.99 / CAD $17.99 (paperback); US $7.99 / CAD $10.99 (e-book)
Review It
Goodreads
Buy It from Independent Booksellers
Buy Local in CanadaUS DistributorBookshareBookshopMassyPowell's
Buy It from Big Corporations (but support us through our affiliate links!)
Amazon CAAmazon USApple BooksGoogle PlayIndigoKobo
Sex work was once thought to be anathema to women's liberation. Now, to some, we represent the tenacity of women's struggles under patriarchy and capitalism—that is, at least the white, straight, cis, able-bodied sex workers who don't engage in actual sex with clients do. These are the workers who get the glossy media profiles and are touted as feminist icons.
But the red umbrella is wide and covers many: escorts, sugar babies, strippers, session wrestlers, cam performers, fetish models, DIY queer porn stars, and the full range of gender, race and ability. Our work and our identities are as vast and variable as the spectrum of sexuality itself.
We do the work. In the streets, in the clubs, in hotel rooms and in play party dungeons. We make dreams come true so we can afford a place to sleep. We do business in a marketplace that politicians and police are constantly burning down for our "own safety and dignity." We have high heels and higher anxiety.
This isn't a collection of sob stories of heartbroken whores. This is a testament of life at ground zero of sexual discourse, the songs of canaries in the coal mines of sex, gender, class, race and disability. We may dance on the table, but we still demand our seat at it.

Sex workers of the world unite. This is A Whore's Manifesto.
"A Whore's Manifesto brings aesthetic and experiential distinctiveness to themes around sex work as an occupation, an identity and a justice movement.  This book evolves sex work authored literature as we know it."
—Amber Dawn, author of How Poetry Saved My Life: A Hustler's Memoir
"An amazing collage of sex worker stories that speaks to the heart of the business. Avoiding the stale narratives that plague the industry and limit us to a bubble of the imitation hookers we've seen on TV, these stories expose the true grit, diversity, heart, and stone cold reality of what it means to be in the world's most notorious business."
—Akynos, web model, burlesque performer, and producer
"A Whore's Manifesto illuminates sex work—this most intimate and essential emotional labor—in all its contradictions, complexities, and conundrums. When you take the time to actually listen to sex workers when they talk about their lives, you will learn that sex work is every bit as painful and creative and vexing and beautiful as being human."
—Lola Davina, author of the Thriving in Sex Work series
"This collection succeeds as a vehicle for workers who have so much stigma placed upon them to define themselves on their own terms and to show readers what they can do."
—Publishers Weekly
"Edited by activist and poet Kay Kassirer, the book includes contributors who represent a wide variety of identities, backgrounds, abilities, genders and work experiences. But all are focused on being heard—and with this collection, they are."
—Ms.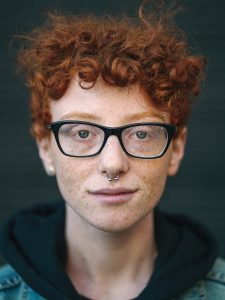 Kay Kassirer is a spoken-word poet, organizer, and activist based in Vancouver, BC.
Photo by innonative.ca.