Ask Yourself: The Consent Culture Workbook
Kitty Stryker, with a foreword by Wagatwe Wanjuki
Publication Date: June 2, 2023
Formats: Trade paperback, Kindle, ePub and PDF
ISBN: 978-1-7782420-0-7 (paperback); 978-1-7782420-1-4 (ePub)
Price: US $19.95 / CAD $26.95 (paperback); US $11.99 / CAD $15.99 (e-book)
Review It
Goodreads
Buy It from Independent Booksellers
Buy Local in CanadaBookshopMassy
Buy It from Big Corporations (but support us through our affiliate links!)
Amazon CAAmazon US
What does "consent culture" mean to you? Navigating the complex, never-ending work of culture change can be overwhelming at times. Whether you're exploring what consent means in your personal life or as part of your work in the world, Ask Yourself guides you through the introspection necessary for lasting change.
In Ask: Building Consent Culture, consent culture activist Kitty Stryker compiled a diverse collection of essays from people working on questions of how to build a culture of consent in our everyday world. This timely and practical companion workbook uses 28 daily prompts to explore consent. Split into four sections on distinct themes, it allows you to work at your own pace and in your own way, with the insights of consent culture activists to help inspire reflection along the way.
"As a survivor of childhood sexual abuse, I have spent the greater part of my life in the rigorous work of trauma recovery that is both continuous and necessary for people like us to lead relatively serene and functioning adult lives. I'm very grateful for the work of serious activist-educators like Stryker, and her new book is exactly what's needed in this moment. It's a practical workbook that takes the reader, step by step, from the inside out, into a thorough awareness of their own personal definition, need and application of consent. If that sounds heavy, it is—as it should be. It's also profound, lovely, timely, universal, and highly actionable. One comes away from this book with a much deeper understanding of the nuanced and evolving idea of consent, a clearer understanding of one's own place within this landscape and, perhaps most importantly, the tools to be of service to others. This is a vital text."
—Alex Winter, actor, Bill & Ted's Excellent Adventure
"The emotional side of sex and consent can often be left out of sex education, and this book is a great resource to empower readers to ask what their 'yes' means, as well as their 'no.' The 'why' of consent is as important as the 'what' and the 'how,' and through the exercises in this book, readers are equipped to situate consent into a positive sexual rights framework and continue the work of building consent culture for themselves and wider society. Active*Consent is delighted to recommend this book as an essential part of consent education."
—Dr Caroline West, Outreach Coordinator at Active*Consent, University of Galway
"This helpful workbook centers consent in the context of the community structures we live in and the people we interact with, rather than viewing consent simply as an individual issue. The personal stories about consent followed by a series of questions helps make consent relatable to your own experience, offering a valuable guide to self-examination for individuals and for groups of people who are trying to attain a better consent culture."
—Susan Wright, spokesperson for the National Coalition for Sexual Freedom
"These conversations on consent are essential for building healthy dynamics in all of our relationships, not just sexual ones. Ask Yourself offers us a tool towards understanding our ongoing relationship with consent beyond just 'yes' and 'no.'"
—Andy Duran, education director, Good Vibrations and Babeland
"Kitty Stryker strikes again with a powerful, vulnerable, and practical resource on preventing and healing sexual violence. This time, Stryker offers a workbook full of exercises, making sexual violence prevention education accessible and (literally) something readers can carry with them. Whether you're looking for help setting and hearing interpersonal boundaries, exploring and communicating your sexual desires, or understanding the nuance of consent, Ask Yourself provides honest, trauma-informed information and practices to build up our toolboxes as safer, happier, more authentic sexual beings."
—Dr. Melissa A. Fabello, author of Appetite: Sex, Touch, and Desire in Women with Anorexia
"This is a f*cking good book!"
—Nicole Byer, actor, comedian, and host of Netflix's Nailed It
"Kitty Stryker has written another very important book. Work book is indeed apt. This book requires work. This book needs your enthusiastic consent to work. This book was written specifically for you. This book requires thoughtfulness, and honesty with oneself. It involves reexamining experiences in your own life. It asks you to explore your feelings. Kitty Stryker offers context and support to you during this process. Thru personal recollections and by sharing the writings of  others, she leads us on an experience to greater understanding of ourselves, our relationships with others, and our relationships with the world at large."
—Vermin Supreme, Libertarian, activist, and political satirist
"Consent is one of the most important, and often overlooked aspects of our world right now. Oftentimes it can be difficult to speak up, or be the 'squeaky wheel' when we are uncomfortable, and it's all too easy to run over an individual's quiet hesitation. Being equipped with the tools to have meaningful conversations can be the key to having effective relationships built on trust. This book will help you achieve that."
—B. Dave Walters, author of Dungeons & Dragons: A Darkened Wish
"Ask: Building Consent Culture editor Kitty Stryker invites readers to delve deeper, with guest experts and personal anecdotes, to manifest a culture of consent in one's own community that starts at the heart."
—Jiz Lee, editor of Coming Out Like a Porn Star
"When Kitty Stryker tugs on the thread of 'consent,' vast, oppressive power structures start to unravel. This workbook gets down to the fundamental principles of how humans need to treat one another. Taking its own metholology to heart, it offers no authoritative answers, just smart, emotionally astute questions that could upend how you think about the problem of other people."
—Alison Bechdel, author of Dykes to Watch Out For and Fun Home
"I've always felt that if societies are ever to address problems of structural violence, we have to understand the dynamics of intimate violence. But this workbook invites us beyond discussions of rape culture and harm-avoidance—the thought-provoking prompts also explore the nature of how and why we say 'yes' to each other on every level, exploring consent as a basis to develop a more equitable and self-acknowledging way to move through the world, and as a radical paradigm for our selves in relation to other people."
—Leigh Alexander, narrative designer and writer of Reigns: Her Majesty
"I'm really loving this book! I've never read more informative writing on consent culture."
—Fallon Fox, athlete and first openly trans MMA fighter
"It's never too early to consider the questions and answers that Kitty Stryker does here. This workbook is an essential resource for building a culture that is based on mutual respect, dignity, safety, and pleasure. This book is, ultimately, about how we care for each other. It's an invaluable resource for making sure we build identities, communities, and a society that is committed to making sure we do."
—Soraya Chemaly, author of Rage Becomes Her: The Power of Women's Anger
"Ask Yourself: The Consent Culture Workbook is an inquisitive guide that directs readers to turn inward to explore and interrogate their personal relationship to consent. A complement to Kitty Stryker's first book, Ask: Building Consent Culture, it combines candid commentary from experts in the field with journal prompts designed to make the learning and unlearning process feel contained and supported. I would recommend this workbook to anyone who's ready to dive deeper and build a stronger understanding of what it takes to build and maintain a true culture of consent."
—Anne Hodder-Shipp, sex and relationships educator and author of Speaking From the Heart:18 Languages for Modern Love
"In a society where 'consent' has become a liberal buzzword, Kitty Stryker and her many interlocutors invite us to ask what 'consent culture' might mean in a world of exploitation. Ask Yourself is a much-needed resource for individuals and groups to collectively think through the complex dynamics that shape how we conduct ourselves in all aspects of life. Stryker has no illusions about how difficult that work is, nor any doubt about its urgency if we are to make safer communities today and build a new world tomorrow."
—Mark Bray, history professor and author of Antifa: The Anti-Fascist Handbook
"I fully believe in the importance of mindful consent in your life and relationships, and this collection really does a wonderful job of showing many different perspectives and methods to incorporate these necessary thoughts and guiding principles into one's own life. Whether you're already an advocate looking to further your understanding or new to the concept of consent culture and bettering the power dynamics in your everyday life, the perspectives and tools discussed within are not just worth reading, but worth returning to many times thereafter."
—Matthew Mercer, voice actor and Game Master for Dungeons & Dragons web series Critical Role
"Kitty Stryker is a genuine force of nature and has a perspective on life, love, sex and consent unlike any I've ever seen. And I've seen a lot of life, love, sex and consent (and lack thereof). I believe consent must be the cornerstone of any relationship, whether it be family, friends, business, love and most especially sex… This book, this idea, and this brave, wise woman should be included in any conversation about consent."
—David Henry Sterry, author of Chicken: Self-Portrait of a Young Man for Rent and Hos, Hookers, Call Girls and Rentboys
"This is so much more than a workbook. This is an essential manual for life! Articulating the big questions within the deep context of consent culture (a term Kitty coined), this is the book we wish we had when we were younger and then would buy and share with all our friends (which we will be doing now anyway). Do yourself a favour and run to get this book."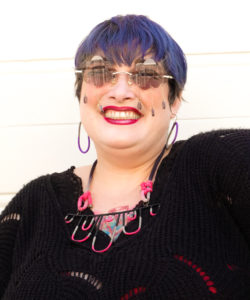 Kitty Stryker is a writer, activist and authority on developing a consent culture in alternative communities. She is the founder of ConsentCulture.com, a hub for LGBT, kinky, and polyamorous folks looking for a sex-critical approach to relationships, and was one of the first people to talk about what a consent culture was and could be. The editor of Ask: Building Consent Culture, Kitty currently serves her community as a street medic and plans to expand on her work by studying law.