In It Together: Navigating Depression with Partners, Friends, and Family
JoEllen Notte
Publication Date: March 3, 2023
Formats: Trade paperback, Kindle, ePub, PDF, audiobook, paperback bundle with The Monster Under the Bed
ISBN: 978-1-990869-08-2 (paperback); 978-1-990869-09-9 (ePub, Kindle, PDF); 978-1-990869-12-9 (audiobook)
Price: US $24.95 / CAD $29.95 (paperback); US $11.99 / CAD $15.99 (e-book); US $19.95 / CAD $26.95 (audiobook)
Pre-Order Direct From the Author!
In It Together Book Tour
Review It
Goodreads
Buy It from Independent Booksellers
Buy Local in CanadaBuy Local in Canada (Bundle with The Monster Under the Bed)US DistributorUS Distributor (bundle with The Monster Under the Bed)BookshopIndieboundIndiebound (bundle with The Monster Under the Bed)Massy
Buy It from Big Corporations (but support us through our affiliate links!)
Amazon CAAmazon CA (bundle with The Monster Under the Bed)Amazon USAmazon US (bundle with The Monster Under the Bed)Book DepositoryIndigoIndigo (bundle with The Monster Under the Bed)Kobo
Millions of people worldwide are coping with depression. Whether it's you, a family member, a friend or a partner — odds are depression affects your life. Even so, many of us don't know what to do when it hits someone we care about.
JoEllen Notte challenges the preconceived notions that keep us from showing up for each other in a meaningful way and offers strategies for supporting each other and ourselves when depression comes calling. Challenging the notions that tell us "that's not my business" or "they probably don't want to talk about that," In It Together equips readers to navigate depression alongside the people they care about.
Informed by interviews with over 200 people coping with depression and featuring practical tips and real-life examples, In it Together is an insightful and much-needed guidebook for people with depression and those who love them.
"There is undeniably no one else writing about the effects of depression on relationships with such a depth of understanding and perspicuity than JoEllen Notte. A trailblazer in the world of mental health advocacy, JoEllen expertly shepherds us past the isolating and confusing world depression inhabits within our loved ones. This is an empathetic manual on how to create and maintain loving, supportive, healthy relationships."
—Elle Chase, author of Curvy Girl Sex: 101 Body-Positive Positions to Empower Your Sex Life
"In It Together is a loving, transparent book that gave me skills to meet my loved ones halfway, in a healthy place. So many of us are managing depression, so how do we stay good to each other when we all have needs? JoEllen writes like a friend, vilifies no one, and focuses on how we can give ourselves a break. It's an incredible guide for better relationships. I want to buy a copy for everyone I know.

Am I allowed to say I laughed and had so much fun reading about depression? Read this book and you'll feel seen — and you'll walk away with a real-life guide to helping loved ones without sacrificing your own mental health."
—Meredith Goldstein, Boston Globe Love Letters advice columnist, podcast host and author of Can't Help Myself
"In It Together is a must-read for anyone who loves someone with mental illness. This easy-to-read handbook for how to show you care about someone with depression is overflowing with honesty, concrete suggestions, and outright hope. JoEllen writes with unquestionable authority on the subject, both as someone who has surveyed and interviewed hundreds of people with depression, and also as someone who has wrestled tenaciously with the voices in her own head.

Through personal stories, forthright suggestions, and even "cheat sheets," she lays out a vision for what healthy, productive relationships might look like, and also provides specific steps for how to get there. If you have a loved one with depression, you may often find yourself asking what to do, what to say, and how to help. In It Together is a powerful, timely and helpful answer to these questions."
—Michael J. Scholtes, author of Darkwater: A Pastor's Memoir of Depression and Faith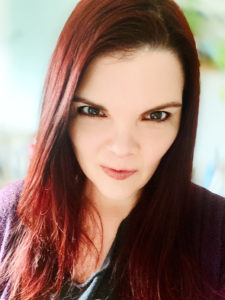 JoEllen Notte is a writer, speaker, and mental health advocate whose work explores the impact of depression on sex and relationships. Since 2012 she has written about sex, mental health, and how none of us are broken on her award-winning site The Redhead Bedhead, as well as for Glamour, the BBC, Bitch, PsychCentral and more. Her first book, The Monster Under the Bed: Sex, Depression, and the Conversations We Aren't Having, was published by Thornapple Press in 2020.