Claiming the B in LGBT: Illuminating the Bisexual Narrative
Edited by Kate Harrad, with a foreword by H. Sharif Williams
Publication Date: October 5, 2018
Formats: Trade paperback, Kindle, ePub, PDF
ISBN: 978-1-944934-60-6 (softcover); 978-1-944934-61-3 (ePub); 978-1-944934-62-0 (Kindle); 978-1-944934-63-7 (PDF)
Price: US $24.95 / CAD $33.95 (paperback); US $11.99 / CAD $15.99 (e-book)
Review It
Goodreads
Buy It from Independent Booksellers
Buy Local in CanadaUS DistributorBookshareBookshopMassyPowell's
Buy It from Big Corporations (but support us through our affiliate links!)
Amazon CAAmazon USGoogle PlayIndigoKobo
Even as the broader LGBT community enjoys political and societal advances in North America, the bisexual community today still contends with decades of misinformation stereotyping bisexuals as innately indecisive, self-loathing, and untrustworthy.
Claiming the B in LGBT strives to give bisexuals a seat at the table. This guidebook to the history and future of the bisexual movement fuses a chronology of bisexual organizing with essays, poems, and articles detailing the lived experiences of bisexual activities struggling against a dominant culture driven by norms of monosexual attraction, compulsory monogamy, and inflexible notions of gender expression and identity.
Kate Harrad's anthology of a thriving identity yearning to realize itself provides a vision of bisexuality that is beyond gay and straight, rather than left to merely occupy the space between.
Praise for the UK edition, Purple Prose
"There are so few books published where the lives of bisexual people are the starting point. But that's not the only reason Purple Prose: Bisexuality in Britain is important. It's an interesting and enjoyable book, featuring contributions from a wide range of people from across the British bi community. Addressing the needs and concerns of bi people, this is a must-read for anyone who is attracted to people of more than one gender, and for those who know and love us." 
— Sue George, author, Women and Bisexuality, blogger, bisexualityandbeyond.com
"I love that this book is written by a range of bisexual authors, so you are getting many different points of view, and therefore you'll always find something in the book that you can relate to or understand, whether you are a bisexual person or someone in your life is bisexual and you want to understand them a bit more." 
— The Book Critic, BookFangirling.com
"At last! British bisexuals come out of the closet with Purple Prose – answering pressing questions about identity, activism, prejudice, relationships and much more. With bisexuality becoming ever more visible in mainstream culture, this book is essential reading for bi people and would-be allies, within the LGBT community and beyond. You need a copy in your life."
— Louise Carolin, deputy editor, DIVA magazine
"Purple Prose is an important book. Its publication may be a watershed moment for the bisexual community in Britain. It is ambitious in its scope, and brave in its approach, but what makes it truly important is that it is a beacon for bisexuals. It reaches out to them and says that you are important, you are an individual and your sexuality is a legitimate reflection of you as a person."
— Andy Heath, TheBookbag.co.uk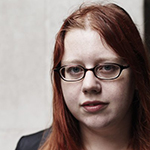 Kate Harrad is a published fiction and non-fiction writer. She co-edited The Ladies' Loos: From Plumbing to Plucking, a Practical Guide for Girls (The Friday Project, 2006), and her novel All Lies and Jest was published by Ghostwoods Books in 2011. She has over a decade of experience working in business editorial/writing positions, and has written for the Guardian, the F-Word and the Huffington Post. She has also been a bi activist for several years, and has co-organized numerous UK bi events.