More Than Two: A Practical Guide to Ethical Polyamory
Eve Rickert et al., with illustrations by Tatiana Gill and forewords by Jessica Fern and Janet Hardy
Publication Date: September 2, 2014
Formats: Trade paperback, Kindle, ePub, audiobook, and paperback bundle with The Relationship Bill of Rights poster
ISBN: 978-0-9913997-0-3 (paperback); 978-0-9913997-2-7 (ePub); 978-1-944934-05-7 (Kindle); 978-1-952125-06-5 (audiobook)
Price: US $24.95/ CAD $29.95 (print) / US $11.99 / CAD $13.99 (e-book); US $29.95 / CAD $39.95 (audiobook)
MORE THAN TWO is a trademark of Thornapple Press. Find more information about the ownership and copyright of the More Than Two works on the author's website.
Review It
Goodreads
Buy It from Independent Booksellers
Buy Local in Canada (book)Buy Local in Canada (book + poster)US Distributor (book)US Distributor (book + poster)BookshareBookshop (book)Bookshop (book + poster)Libro.fmMassy (book)Massy (book + poster)Powell's (book)Powell's (book + poster)
Buy It from Big Corporations (but support us through our affiliate links!)
Amazon CA (book)Amazon CA (book + poster)Amazon US (book)Amazon US (book + poster)Apple BooksGoogle PlayIndigo (book)Indigo (book + poster)Kobo
Más que dos: Una guía para el poliamor ético
Franklin Veaux y Eve Rickert
Fecha de publicación: 16 de septiembre de 2019
Formatos: Libro de bolsillo, Kindle, ePub
ISBN: 978-1-944934-85-9 (libro de bolsillo);  978-1-944934-86-6 (ePub); 978-1-944934-87-3 (Kindle); 978-1-944934-88-0 (PDF)
Precio: US $24,95 / CAD $33,95 (libro de bolsillo); US $11,99 / CAD $15,99 (e-book)
Revísalo
Goodreads
Cómpralo de libreros independientes
Compra local en CanadáDistribuidor de EE. UU.BookshareBookshopIndieboundMassyPowell's
Cómpralo de las grandes corporaciones (¡pero apóyanos a través de nuestros enlaces de afiliados!)
Amazon CanadáAmazon EE.UU.Apple BooksGoogle PlayIndigoKobo
Can you love more than one person? Have multiple romantic partners without jealousy or cheating? Absolutely! From Ancient Greece through the many dynasties of China to current practices of non-monogamy, people have long openly engaged in multiple intimate relationships. Not until the late 20th century, however, was a word coined that encapsulated the practice, as well as its philosophies, edicts and ethics: polyamory (poly = many + amore = love).
In recent years, as more people have discovered polyamory as a legitimate and desirable option for how they conduct their relationships, Eve Rickert and Franklin Veaux saw a growing need for a comprehensive guide to the lifestyle. More Than Two is that guide.
This wide-ranging resource explores the often-complex world of living polyamorously. The authors share not only their hard-won philosophies about polyamory, but also their hurts and embarrassments. Living poly is not always an easy road, but by reading this book, you might avoid making some of the mistakes they've made along the way.
—
¿Se puede amar a más que una persona? ¿Tener múltiples parejas románticas sin celos ni engaños? ¡Absolutamente! Desde la Grecia antigua y las dinastías numerosas de China hasta las prácticas modernas de no monogamia, las personas se han involucrado abiertamente en múltiples relaciones íntimas a lo largo de toda la historia. Sin embargo, no fue sino hasta finales del siglo XX que se acuñó una palabra que resumiera la práctica, así como sus filosofías, edictos y ética: poliamor (poli = muchos + amore = amor).
En los últimos años, a medida que más personas han descubierto el poliamor como una opción legítima y deseable para vivir sus relaciones, Eve Rickert y Franklin Veaux vieron una necesidad creciente de una guía integral sobre este estilo de vida. Más que dos es esa guía.
Este recurso de amplio alcance explora el mundo, a menudo complejo, de la vida poliamorosa. Los autores comparten no solo sus filosofías sobre el poliamor, ganadas con tanto esfuerzo, sino también sus dolores y vergüenzas. Vivir poli no es siempre un camino fácil, pero al leer este libro, quizás puedes evitar cometer algunos de los errores que ellos han cometido en el camino.
Dossie and I have been described as big sisters (if your big sister is a slutty kinky aging hippie); Franklin and Eve are more like wise neighbors. Think of the guy on the other side of the fence on Home Improvement, calm and wise and funny. Dossie and I write primarily about the sexual aspects of poly; Franklin and Eve are more interested in the day-to-day living part. Dossie and I like to indulge ourselves, just a little, in high-flown realms of abstraction and idealism; Franklin and Eve like to keep their feet on the ground.
—From the foreword by Janet Hardy, co-author of The Ethical Slut
It is a pleasure to read and is full of ideas helpful to anyone in, or considering, multiple consensual open loving relationships.
—David S. Hall, Electronic Journal of Human Sexuality
Franklin and Eve's new groundbreaking book is a must-read deep dive into the psychology, morality, and practicalities of non-monogamy done well. Buy two copies—one for yourself and one for that friend who is going to insist on borrowing it.
—Pepper Mint, sex educator, polyamory activist, and author of Playing Fair
If creating strong relationships where partners feel cherished, safe and fully able to advocate for their needs is something that you care about, I strongly recommend that you pick up this book. I'd encourage even monogamous people to read this book on the merits of the tools and guidelines it provides. Trust me. You will never read a relationship book that so challenges you to be a better human being to those you love.
—A.V. Flox, author of Disrupting the Bystander and founder of Slantist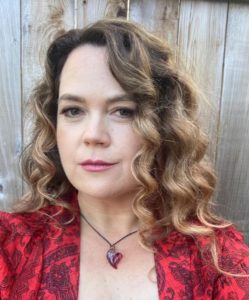 Eve Rickert is a professional writer, editor and mastermind. Her approach to poly has evolved over many years: from early experiences in high school, to first hearing the word polyamory in 1998, to her first swingers party in 2006, to her current relationships. She's learned a lot of hard lessons. She co-wrote More Than Two to share those experiences with anyone who is struggling to maintain ethical multiple relationships with integrity, compassion and courage. She blogs at brighterthansunflowers.com.