Love's Not Color Blind: Race and Representation in Polyamorous and Other Alternative Communities
Kevin A. Patterson, with a foreword by Ruby Bouie Johnson
Publication Date: March 30, 2018
Formats: Trade paperback, Kindle, ePub, PDF, audiobook
ISBN: 978-1-944934-46-0 (paperback); 978-1-944934-47-7 (ePub); 978-1-944934-48-4 (Kindle); 978-1-944934-49-1 (PDF); 978-1-952125-16-4 (audiobook)
Price: US $19.95 / CAD $26.95 (softcover); US $11.99 / CAD $15.99 (e-book); US $14.95 / CAD $19.95 (audiobook)
Review It
Goodreads

Buy It from Independent Booksellers
DistributorBookManagerBookshareBookshopLibro.fmMassyPowell's
Buy It from Big Corporations (but support us through our affiliate links!)
Amazon CAAmazon USApple BooksGoogle PlayIndigoKobo
Polyamory, however compassionate an alternative to monogamy, still operates and is rooted in a racist society. The things that make monogamous dating daunting for people of color—shaming and exclusion by white partners, being fetishized, having realities of everyday racism ignored—occur in polyamorous relationships too, but are often exacerbated by societal misconceptions of polyamory as a game of "collecting" different kinds of lovers.
When these behaviors are unacknowledged and unchecked, polyamory isn't a more inclusive or compassionate relationship style. Agreeing to "not be racist" or, worse, trying "not to see race" only makes it worse. To make polyamorous communities inclusive, we must all take ownership, acknowledge our part in perpetuating racism, and listen to people of color.
These conversations can be difficult and (if we're being honest) self-incriminating. But they are necessary for us to build a better alternative.
Love's Not Color Blind puts forward the framework—through research, anecdotal testimony, and analogy—for understanding, identifying, and ultimately confronting the manifestations of racism within polyamorous communities.
Whether you're a community leader or you just like to date a lot, this is an invaluable tool for creating a more inclusive polyamory.
"In her latest book, Jessica Fern has crafted the map to guide readers and lovers venturing into the uncharted. With great care and necessary nuance, Polywise is a must-read for anyone navigating open relationships."
—Esther Perel
"Polywise emphasizes transitions—whether from monogamy to nonmonogamy, or from one form of nonmonogamy to another. It is these transitional periods that can easily reveal the grinding mechanisms behind the scenes, and the cracks in a relationship's infrastructure. This is where many of us need the most help, and so Polywise goes straight to the heart of the matter, offering balms for healing and genuinely feasible strategies for making these things…not painless, perhaps, but hopefully a little kinder to all involved, and certainly survivable.


As I read, I found myself particularly inspired by the collaborative spirit of Polywise, incorporating as it does several sections written by David Cooley, with whom Fern has been "classmates, friends, lovers, husband and wife, co-parents, ex-husband and ex-wife, family of choice, housemates, life partners and now, even co-authors." The book's very existence is tangible proof of the general fact that relationship transitions need not be losses. More generally, you can feel in these pages the accumulated practical wisdom that comes from seeking emergent patterns in the data, rather than simply imposing pre- conceived ideas. And Fern's data are, in a sense, us, the nonmonogamous: this is a book about our real lives and real loves, as represented in the kinds of challenges that came up repeatedly for her non-monogamous clients and interviewees.

The practical and the theoretical are integrated seamlessly in this book, just like in real life. Many of us will be visiting the wisdom of Polywise over and over again as our relationships grow and change, like the living things they are."
—Carrie Jenkins, professor of philosophy at the University of British Columbia and the author of What Love Is (and What it Could Be) and Sad Love: Romance and the Search for Meaning, and Nonmonogamy and Happiness.
"As someone who's experienced a multitude of relationship transitions throughout the course of my life, I found Polywise to be incredibly profound. This book moves past the polyamory 101 manual into graduate-level territory. It's an exceptional achievement that will be required reading for anyone practicing consensual nonmonogamy, from seasoned veteran to timid newbie alike." 
—Emily Sotelo Matlack, co-host of the Multiamory Podcast and co-author of Multiamory: Essential Tools for Modern Relationships
"So often advice about nonmongamy feels like it is addressing the visible issues at hand—jealousy, boundaries, communication, etc—so relationships can survive. In Polywise, Jessica Fern and David Cooley help readers understand the often unseen root causes of those symptoms and give them the strategies they need so their relationships can actually thrive."
—JoEllen Notte, author of The Monster Under the Bed: Sex, Depression, and the Conversations We Aren't Having and In It Together: Navigating Depression with Partners, Friends, and Family
"Jessica Fern is a genius and she is really rocking our (poly) world! Most of us are thrilled if we can manage the logistical and emotional challenges of polyamory without murder or mayhem. We are content to 'make polyamory work' in our lives and keep ourselves and our partners reasonably happy. Jessica is taking us far beyond that to a much deeper level of understanding of our psyches and the underpinnings of our relationship dynamics. She and her co-conspirator David Cooley have bared their souls about the evolution of their own poly lives and relationships, as well as sharing countless illuminating stories about their clients' struggles. They have truly pulled back the curtain to expose the real truth of how things can go so horribly awry, and exactly why poly relationships can so often spiral down into Poly Hell.

There were many times when I wanted to stop reading, because I wasn't sure if I really wanted this level of brutal honesty. This is truly Poly 4.0, and it may be too much for a mere mortal like myself to ever become this highly evolved as a human being and as a relationship partner. But if I decide I am up to the challenge, Jessica has given me a roadmap to get there. Required reading and a must-have for your poly bookshelf!"
—Kathy Labriola, counselor, nurse, and author of The Polyamory Breakup Book
"This book is thorough! There were so many useful tools, concepts, exercises, and prompts for personal inquiry that anyone who reads it can walk away with something they can apply to level up their nonmonogamous journey. And on a personal note, reading the stories from Jessica and her former-spouse-turned-co-author Dave was particularly poignant for me as someone currently separating from my spouse, whom I entered nonmonogamy with. Their compassionate and honest reflections on their relationship with one another were healing for me. I often say there's being polyamorous and then there's being polyamorous well. I believe Polywise can equip you to do just that."
—Evita Sawyers, author of A Polyamory Devotional
"In Polywise's expansive and eye-opening exploration of the possibilities of nonmonogamous life, Jessica Fern invites us to examine our individual and societal beliefs about love and offers an indispensable guide for newly opened couples' transitions to their next chapter. If you are ready to think more deeply about communication, codependency, conflict, and repair in your most important relationships, Polywise is required reading. I am looking forward to recommending this guide to clients and students."
—Alexandra H. Solomon, PhD, author of Love Every Day and host of Reimagining Love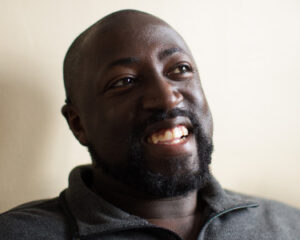 Kevin A. Patterson, M.Ed., has been practicing ethical nonmonogamy for 15 years and is an active member of the Philadelphia polyamory community. He is the creator of the Poly Role Models project, an interview series that serves as a platform for the diversity of our relationship structures and the people within them to shine through.