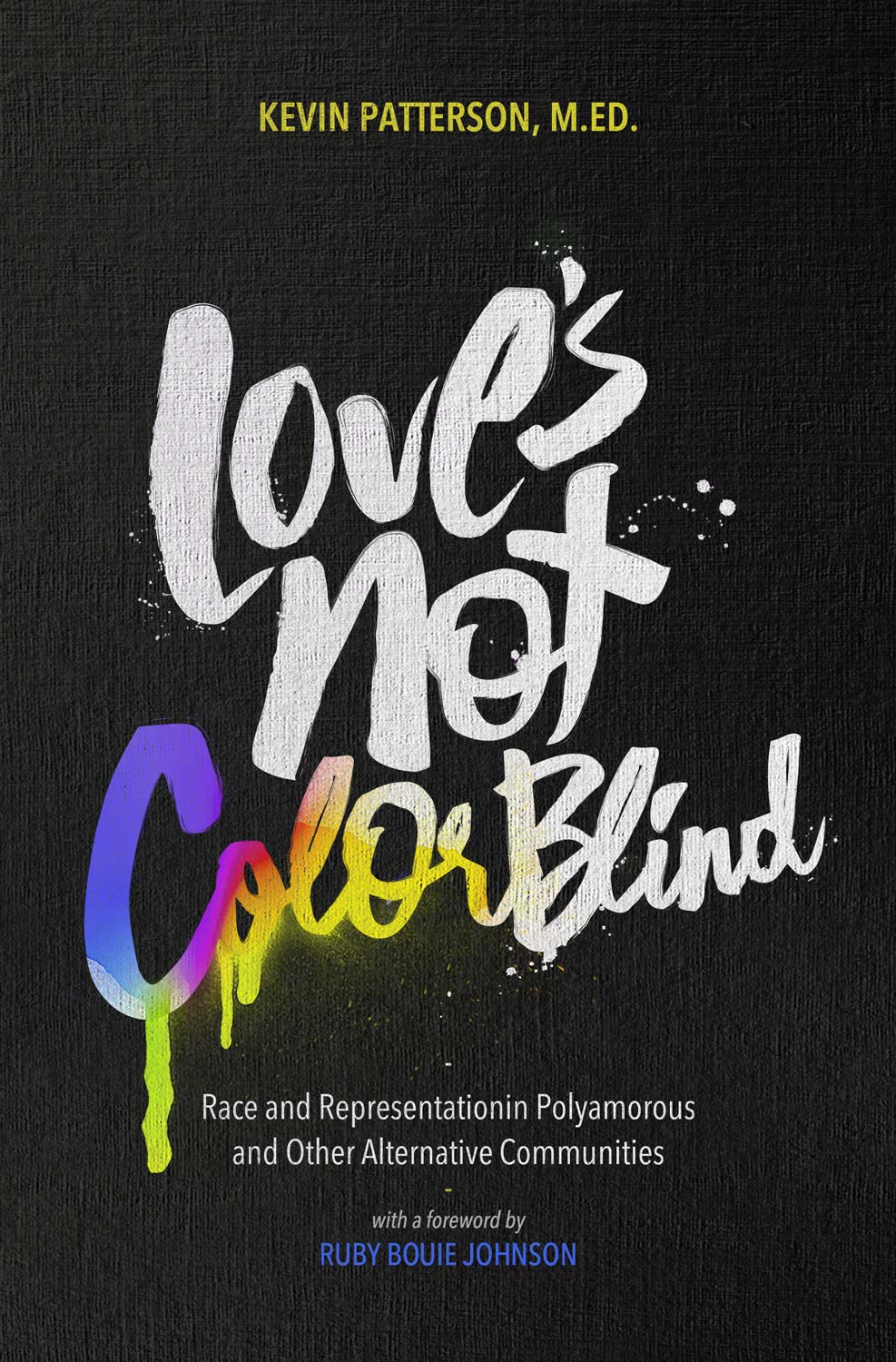 Love's Not Color Blind: Race and Representation in Polyamorous and Other Alternative Communities
Kevin A. Patterson, with a foreword by Ruby Bouie Johnson
Publication Date: March 30, 2018
Formats: Trade paperback, Kindle, ePub, PDF, audiobook
ISBN: 978-1-944934-46-0 (paperback); 978-1-944934-47-7 (ePub); 978-1-944934-48-4 (Kindle); 978-1-944934-49-1 (PDF); 978-1-952125-16-4 (audiobook)
Price: US $19.95 / CAD $26.95 (softcover); US $11.99 / CAD $15.99 (e-book); US $14.95 / CAD $19.95 (audiobook)
Review It
Goodreads

Buy It from Independent Booksellers
DistributorBookManagerBookshareBookshopLibro.fmMassyPowell's
Buy It from Big Corporations (but support us through our affiliate links!)
Amazon CAAmazon USApple BooksGoogle PlayIndigoKobo
Polyamory, however compassionate an alternative to monogamy, still operates and is rooted in a racist society. The things that make monogamous dating daunting for people of color—shaming and exclusion by white partners, being fetishized, having realities of everyday racism ignored—occur in polyamorous relationships too, but are often exacerbated by societal misconceptions of polyamory as a game of "collecting" different kinds of lovers.
When these behaviors are unacknowledged and unchecked, polyamory isn't a more inclusive or compassionate relationship style. Agreeing to "not be racist" or, worse, trying "not to see race" only makes it worse. To make polyamorous communities inclusive, we must all take ownership, acknowledge our part in perpetuating racism, and listen to people of color.
These conversations can be difficult and (if we're being honest) self-incriminating. But they are necessary for us to build a better alternative.
Love's Not Color Blind puts forward the framework—through research, anecdotal testimony, and analogy—for understanding, identifying, and ultimately confronting the manifestations of racism within polyamorous communities.
Whether you're a community leader or you just like to date a lot, this is an invaluable tool for creating a more inclusive polyamory.
"Kitty Stryker has followed up her powerful book on consent culture with an essential resource for young people. Say More is crystal-clear and complex without being dense or academic, and is brimming with compassion and identification. Boundaries and consent are rarely discussed with our teens and children and should be commonplace in homes and schools. If I had had this book when I was thirteen and struggling alone with an abuser, it would have been a game changer. Say More will change the game for many young people and parents, whether dealing with extreme situations or the everyday challenges of interpersonal relationships and maintaining one's agency."
—Alex Winter, actor, Bill & Ted's Excellent Adventure
"As a cisgender guy, we're not always socialized to have the kind of background in consent that we should. Had I had a whole-ass book to teach me in my teens vs. learning it all clumsily through trial and error in my adulthood, I'd probably have far fewer awkward interactions to cringe about for the rest of my life. Kitty is not only tackling the right topic but aiming at the exact right audience to make the most amount of positive impact."
—Kevin A. Patterson, M.Ed, author of Love's Not Color Blind
"Say More is an earnest, funny, thought-provoking exploration into not just consent, but good communication as a whole. The book approaches navigating consent with a blend of sensitivity and unapologetic, straightforward clarity, making it an essential read for anyone—not just teens—looking to enhance their communication skills. Kitty's emphasis on authenticity and compassion makes it a standout addition to the conversation. This book belongs in every sex-ed classroom and every relationship therapist's office."
—Cate Osborn (Catieosaurus), certified ADHD sex educator
"Say More is a brilliant overview of all things consent. It gives teens spot-on, realistic advice about how we might navigate all our relationships more consensually, and about how to handle things when we, inevitably, don't manage it at times. Kitty Stryker is just the friendly mentor required to guide us through this complex territory with clarity, steadiness, and a whole lot of relatable experience."
—Dr. Meg-John Barker, co-author of How To Understand Your Sexuality and Sexuality: A Graphic Guide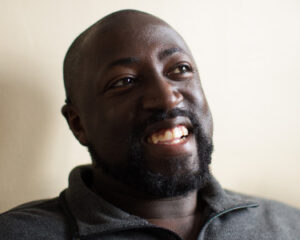 Kevin A. Patterson, M.Ed., has been practicing ethical nonmonogamy for 15 years and is an active member of the Philadelphia polyamory community. He is the creator of the Poly Role Models project, an interview series that serves as a platform for the diversity of our relationship structures and the people within them to shine through.