Love's Not Color Blind: Race and Representation in Polyamorous and Other Alternative Communities
Kevin A. Patterson, with a foreword by Ruby Bouie Johnson
Publication Date: March 30, 2018
Formats: Trade paperback, Kindle, ePub, PDF, audiobook
ISBN: 978-1-944934-46-0 (paperback); 978-1-944934-47-7 (ePub); 978-1-944934-48-4 (Kindle); 978-1-944934-49-1 (PDF); 978-1-952125-16-4 (audiobook)
Price: US $19.95 / CAD $26.95 (softcover); US $11.99 / CAD $15.99 (e-book); US $14.95 / CAD $19.95 (audiobook)
Review It
Goodreads

Buy It from Independent Booksellers
DistributorBookManagerBookshareBookshopIndieboundLibro.fmMassyPowell's
Buy It from Big Corporations (but support us through our affiliate links!)
Amazon CAAmazon USApple BooksBook DepositoryGoogle PlayIndigoKobo
Polyamory, however compassionate an alternative to monogamy, still operates and is rooted in a racist society. The things that make monogamous dating daunting for people of color—shaming and exclusion by white partners, being fetishized, having realities of everyday racism ignored—occur in polyamorous relationships too, but are often exacerbated by societal misconceptions of polyamory as a game of "collecting" different kinds of lovers.
When these behaviors are unacknowledged and unchecked, polyamory isn't a more inclusive or compassionate relationship style. Agreeing to "not be racist" or, worse, trying "not to see race" only makes it worse. To make polyamorous communities inclusive, we must all take ownership, acknowledge our part in perpetuating racism, and listen to people of color.
These conversations can be difficult and (if we're being honest) self-incriminating. But they are necessary for us to build a better alternative.
Love's Not Color Blind puts forward the framework—through research, anecdotal testimony, and analogy—for understanding, identifying, and ultimately confronting the manifestations of racism within polyamorous communities.
Whether you're a community leader or you just like to date a lot, this is an invaluable tool for creating a more inclusive polyamory.
"For both people of color and their allies, this is a powerful offering that dismantles myths about polyamory and builds a bridge to better understanding." 
—Silver award winner in the Foreword Reviews 2018 INDIES, LGBT (Adult Nonfiction)
"Love's Not Color Blind should be required reading for people who are sex positive, as well as those in alternative relationships or communities. Kevin A. Patterson addresses inclusivity masterfully––with humor and a gentle touch––even when the issues are challenging. This book will inspire you to engage in much needed conversations during this critical time in our history." 
—Mark Michaels and Patricia Johnson, co-authors of Designer Relationships, Partners in Passion, Great Sex Made Simple, Tantra for Erotic Empowerment, and The Essence of Tantric Sexuality
"It's incredibly hard to talk about racism with people who are not receptive to education. Kevin does amazing work in this book both centering the voices of people of color and educating white folks on privilege. His words will positively influence polyamorous communities for years to come." 
—Rebecca Hiles, The Frisky Fairy
"Kevin Patterson offers a wonderful honesty about who he is, how he loves, and the difficult challenges affecting all of us around race in American society and, more precisely, race as a marker for those who participate in alternative relationship styles. The clarity of writing here is impressive, and his book contributes not simply to a dialog on polyamory, but to a larger, vital dialog on race and privilege. Love's Not Color Blind is an essential read for polyamory communities everywhere." 
—Lola Houston, anthropologist and polyactivist
"Kevin Patterson uses everything from pop culture to scientific studies to open your eyes to a different perspective. The lens shifts from an angle of separation of sub-culture to a focus of centering. As a sex-positive event planner, I need all the tools I can get in order to ensure our events are inclusive. As the author says, 'If you aren't being actively inclusive, you are being passively exclusionary.'" 
—Kendra Holliday, writer and editor of The Beautiful Kind blog, co-founder of Sex Positive St. Louis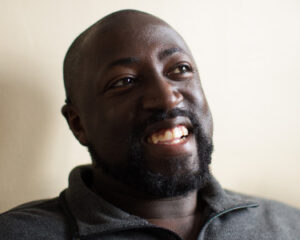 Kevin A. Patterson, M.Ed., has been practicing ethical nonmonogamy for 15 years and is an active member of the Philadelphia polyamory community. He is the creator of the Poly Role Models project, an interview series that serves as a platform for the diversity of our relationship structures and the people within them to shine through.